Ivermectin will be distributed to humans and livestock with an aim to reduce malaria transmission
BOHEMIA launches its first round of mass drug administration (MDA) of ivermectin in the Mopeia district of Mozambique. The consortium, led by ISGlobal and funded by Unitaid, is exploring the potential of ivermectin to break the cycle of malaria transmission via mass drug administrations in different ecological and epidemiological settings in eastern and southern Africa.
It takes a community to break malaria transmission
The launch of the trial marks a key phase in the project as it advances from preparatory activities to generating clinical evidence.
"To imagine a malaria-free Mozambique in our lifetime, we urgently need innovative tools and approaches. We are grateful to the community in Mopeia and its leaders for their support and trust in the project," said Dr Francisco Saúte from Manhiça Health Research Center (CISM), BOHEMIA's Country Principal Investigator for Mozambique.
A census in the Mopeia district registered 26,134 households with 32,300 eligible adults who could participate in the trials. Though the safety of the drug will be tested in adults, its actual efficacy will be studied in children under 5 years old (without being administered the drug). According to BOHEMIA's Principal Investigator, Dr Regina Rabinovich, "This is important as the World Malaria Report 2021 shows that malaria affects children far more than we had estimated before. The BOHEMIA trial is unique because it positions ivermectin as a drug that can benefit the entire community, not just an individual."
Participants will receive three separate doses during the peak of the malaria season. The cluster-randomized trial has three arms – i) only humans receive ivermectin, ii) humans and livestock receive ivermectin, iii) Only humans receive albendazole (the control arm).
An old drug for a new purpose
Ivermectin is not a new drug for the global health community. First identified in the 1970s, this antiparasitic drug has been distributed to more than 4 billion people over the last 30 years in mass drug administration campaigns to treat neglected tropical diseases. Recent research also demonstrates that this drug can increase the mortality of mosquitos that feed on treated humans or animals during a time period that can be up to 28 days, depending on the dose. BOHEMIA seeks to build on this evidence by using ivermectin to tackle residual malaria transmission.
"In today's context of widespread insecticide resistance, there is an urgent need for new tools in vector control strategies," said Dr Carlos Chaccour, the Chief Scientific Officer of BOHEMIA and researcher at ISGlobal. "Ivermectin is a drug with an excellent safety profile. We are grateful to Unitaid for supporting this investigation that could potentially become a complementary strategy to reduce malaria transmission."
Moreover, the BOHEMIA project is guided by the One Health approach that offers an opportunity for preventing neglected tropical diseases in humans, which will have a positive impact on households. Delivery to livestock reduces the burden of intestinal helminths and ectoparasites in domesticated herds, thereby increasing income and food security. The trial's veterinary arm will investigate the potential added benefits of administering ivermectin to livestock in the trial region.
About the BOHEMIA consortium
BOHEMIA is a consortium led by the Barcelona Institute for Global Health (ISGlobal) and funded by Unitaid. The BOHEMIA project is being implemented in Mozambique by the Manhiça Health Research Centre (CISM), and in Kenya by the KEMRI-Wellcome Trust research program and the Kenya Medical Research Institute (KEMRI). The consortium also includes partners: Ifakara Health Institute (IHI) in Tanzania, the University Hospital of Bern in Switzerland, the University of Oxford in the United Kingdom, and Virginia Tech in the United States.
Artur Muandula, the Mopiea District Administrator takes the first dose to launch the trial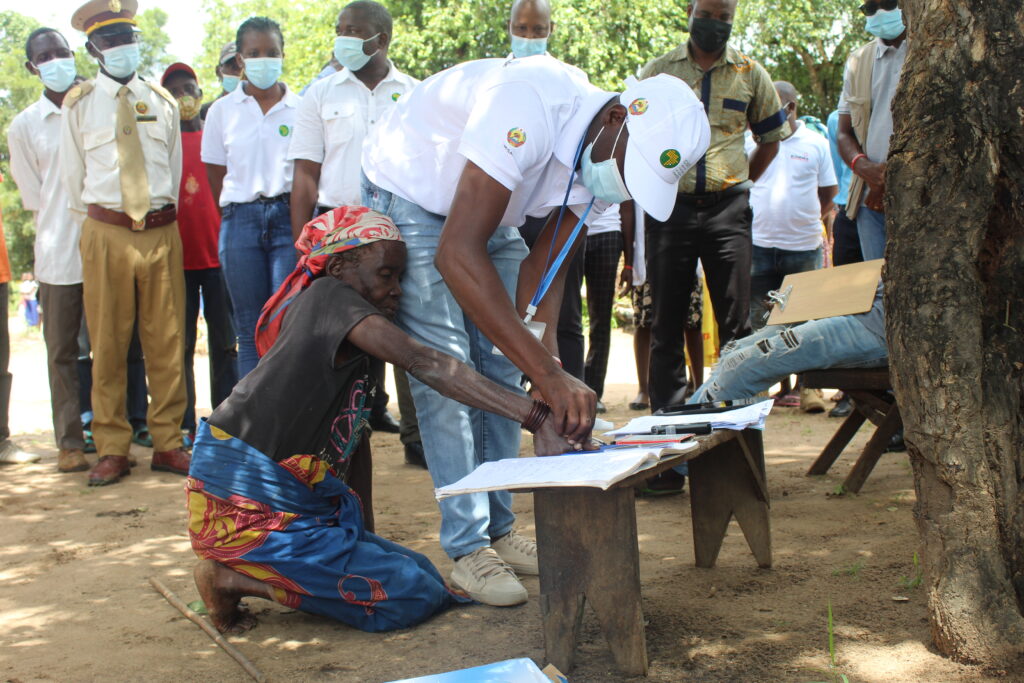 Healthworkers assisting the community members to participate in the trial
Photos: Nércio Machele / CISM